Have Our Superior Wagyu Beef Products in Small Cuts
No Chest Freezer – No Problem! Select from our list of individual cuts and Sampler Packages.
Makes a Great Gift they won't soon forget!
We can ship anywhere in the U.S.
Choose between Private Reserve Wagyu or Premium Wagyu
*Stone Ridge Private Reserve Wagyu
This is our 100% Full-Blood Wagyu selection, the smooth texture and sweet buttery flavor combined with its intense marbling makes for a truly unforgettable dining experience. USDA Prime labeling requires 10-12% intramuscular marbling, Stone Ridge Private Reserve Wagyu consistently exceeds 25% intramuscular marbling.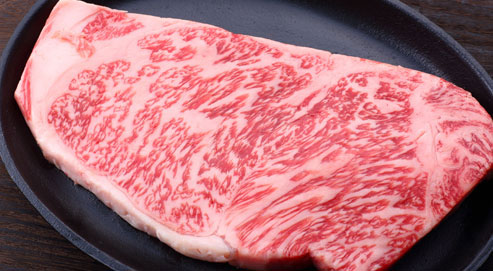 PRIVATE RESERVE Wagyu (100% Full Blood Wagyu)
| Individual Cuts | # Pieces per package | Weight per package +/- 2 oz. | Price per PKG |
| --- | --- | --- | --- |
| Tri Tip | 1 | 2 lb. | $70.00 |
| Brisket | 1 | 10 lb. | $210.00 |
| Chuck Roast | 1 | 4 lb. | $56.00 |
| Prime Rib Roast | 1 | 5 lb. | $262.50 |
| Chuck Steak | 1 | 1.5 lb. | $17.50 |
| Filet Mignon | 1 | 6 oz. | $43.75 |
| Sirloin Steak | 1 | 16 oz. | $35.00 |
| Ribeye Steak | 1 | 16 oz. | $52.50 |
| Tomahawk Ribeye | 1 | 2.5 lb. | $140.00 |
| NY Strip Steak | 1 | 14 oz. | $47.25 |
| Flank Steak | 1 | 2 lb. | $35.00 |
| Skirt Steak | 1 | 2 lb. | $35.00 |
| Hanger Steak | 1 | 20 oz. | $35.00 |
| Kabob Meat | n/a | 1 lb. | $17.50 |
| Short Ribs | 1 | 2 lb. | $66.50 |
| Fajita Meat | n/a | 1 lb. | $17.50 |
| Ground Beef (bulk) | n/a | 1 lb. | $7.00 |
| Beef Bacon | n/a | 1 lb. | $21.00 |
Sampler Packages
Package Includes
List Price
Grilling Package
2 Ribeye Steaks & 2 NY Strip Steaks
10 lb. Ground Beef
2 Sirloin Steaks & 2 lb. Short Ribs
$350.00
Steak Sampler
2 Filet Steaks & 2 Ribeye Steaks
2 NY Steaks & 2 Sirloin Steaks
$323.75
Small Variety Sampler
5 lb. Ground Beef & 3‑4 lb. Roast;
1 lb. Kabob Meat & 2 lb. Short Ribs
2 NY Strip Steaks & 2 Sirloin Steaks
$309.75
*Stone Ridge Premium Wagyu
This is our Wagyu/Angus Cross selection. With this cross you get the best of both breeds, the hearty texture and flavor of Angus and the intramuscular marbling of Wagyu. Only 2% of domestic beef meets "USDA Prime" intramuscular marbling requirements. 96% of our Stone Ridge Premium Wagyu exceeds intramuscular marbling requirements for "USDA Prime."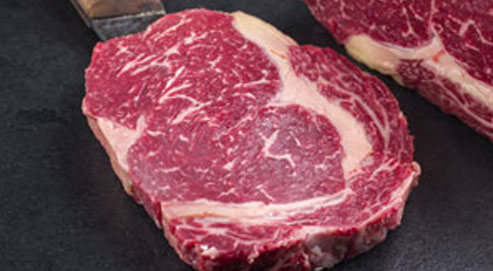 PREMIUM WAGYU (Wagyu/Angus Cross)
| Individual Cuts | # Pieces per package | Weight per package +/- 2 oz. | Price per PKG |
| --- | --- | --- | --- |
| Tri Tip | 1 | 2 lb. | $40.00 |
| Brisket | 1 | 10 lb. | $120.00 |
| Chuck Roast | 1 | 4 lb. | $32.00 |
| Prime Rib Roast | 1 | 5 lb. | $150.00 |
| Chuck Steak | 1 | 1.5 lb. | $10.00 |
| Filet Mignon | 1 | 6 oz. | $25.00 |
| Sirloin Steak | 1 | 16 oz. | $20.00 |
| Ribeye Steak | 1 | 16 oz. | $30.00 |
| Tomahawk Ribeye | 1 | 2.5 lb. | $80.00 |
| NY Strip Steak | 1 | 14 oz. | $27.00 |
| Flank Steak | 1 | 2 lb. | $20.00 |
| Skirt Steak | 1 | 2 lb. | $20.00 |
| Hanger Steak | 1 | 20 oz. | $20.00 |
| Kabob Meat | n/a | 1 lb. | $10.00 |
| Short Ribs | 1 | 2 lb. | $38.00 |
| Fajita Meat | n/a | 1 lb. | $10.00 |
| Ground Beef (bulk) | n/a | 1 lb. | $4.00 |
| Beef Bacon | n/a | 1 lb. | $12.00 |
Sampler Packages
Package Includes
List Price
Grilling Package
2 Ribeye Steaks & 2 NY Strip Steaks
10 lb. Ground Beef
2 Sirloin Steaks & 2 lb. Short Ribs
$200.00
Steak Sampler
2 Filet Steaks & 2 Ribeye Steaks
2 NY Steaks & 2 Sirloin Steaks
$185.00
Small Variety Sampler
5 lb. Ground Beef & 3‑4 lb. Roast;
1 lb. Kabob Meat & 2 lb. Short Ribs
2 NY Strip Steaks & 2 Sirloin Steaks
$177.00